Meat Plus No1 Korean BBQ – West Lake is one of the top must – visit Korean BBQ restaurants. With delicious barbecue, 5 stars service, reasonable price from only 350.000VND/person with a million – dollar – view of West Lake. West Lake Meat Plus has completely captured customers' hearts with scrumptious Korean dishes. This place is not only the address for those who want to try a Korean BBQ restaurant with the best view, but also the location of many events with special offers. Meat Plus Korean BBQ – West Lake has become No1 BBQ and is on the list of Food tour Hanoi, Food tour West Lake for all ages.
🥩 𝐌𝐞𝐚𝐭𝐩𝐥𝐮𝐬 𝐍𝐨𝟏 𝐊𝐨𝐫𝐞𝐚𝐧 𝐁𝐁𝐐 – West Lake 🥩
HIGH CLASS – DELICIOUS – NO1 KOREAN BBQ
👉 Address: 73 Trich Sai, Tay Ho, Hanoi 
⏰ Open hours: Monday – Saturday: 11:00 – 14:30 and 17:00 – 22 :00 Sunday: 11:00 – 22:00
Meat Plus – Enjoy authentic Korean barbecue in the heart of Hanoi
West Lake Meat Plus – No1 Korean BBQ Restaurant, is a famous brand with high-class barbecue. Customers knows Meat Plus No1 Korean BBQ – West Lake with 5 outstanding strengths:
"Eat the Meat Plus barbecue, you must definitely eat it with onion salad, I swear that eating onions is not sharp but the taste is blended, sour, and it goes well with grilled meat. Customers can take out the unlimited side dishes, so it's great", shared by a member of Group: ADDICTED TO WEST LAKE MEAT PLUS.
Meat Plus No1 Korean BBQ Menu: Grilled Meat + Free vegetables, salad + Side dishes
The Meat Plus menu is designed according to the combo set with the attractive discounts in the spirit of "plus". Meals are accurately weighed by the restaurant, at a reasonable price. Accordingly, all diners who order 2 servings of beef ribs will receive 4 servings, and those who order 4 servings will get 8 servings. As a result, diners can enjoy double the amount of meat at half the price.
West Lake Meat Plus Menu
Meat 4+4: Buy 4 get 4 for 4-5 people: What is a 4+4 set? Meat 2+2: Buy 2 get 2 for 2+3 people: What is the 2+2 set?
Meat Plus 4+4 menu is for teams of 4-5 people who can choose meat Set 4+4 (Buy 4 get 4)!
For example: Order combo number 1 for 1.230.000 VND will include 4 pieces of US beef tenderloin and get 4 free US beef ribs. (1 serving of 4 + 4 falls from 1 kg -1.2 kg of meat depending on the set of meat or type of meat) Total is 8 servings unchanged price 1.230.000 VND. 8 parts will come out on the same disc.
Meat Plus menu 2+2 is a set of meat for 2-3 people (500-600g depending on the type of meat). For example, you order set 16, priced at 680.000 VND, will include 2 pieces of marinated internal meat and will be given 2 pieces of American beef ribs. Total is 4 parts. Price unchanged 680.000 VND.
In addition, Menu Meat Plus also has many standard Korean side dishes. Like boneless beef rib soup, soft and sweet. Rice cakes, Korean rice, Free soy sauce soup, cold noodles…
When enjoying Korean barbecue, panchan (side dish) is an indispensable part. At Meat Plus No1 Korean BBQ – West Lake, diners can eat meat "all you can eat" without fear of boredom because the restaurant serves a variety of fresh salads, prepared with a variety of tastes: fruit salad, cucumber. salt, pickled radish… The onion salad here is especially loved by many diners.
Does your company organize a party for women, October 20 or monthly birthdays for employees? Farewell party? Or the boss is too happy to celebrate a new project winning the bid? Or simply co-workers having lunch together? Then Meat Plus Ho Tay's quick party is the right choice.
Menu suitable for Office Quick Party: BBQ table from only 350.000 VND/person or a variety of lunch combos: Lunch combo 195.000VND/serving (original 350.000VND), Yookssam cold noodles (meat & noodles) only 120.000VND, Emperor beef rib soup only 150.000VND!
Meat Plus No1 Korean BBQ space Review
Meat Plus No1 Korean BBQ – West Lake is known as a restaurant with beautiful space in West Lake and Hanoi. Located right in the heart of Hanoi, Meat Plus West Lake is located at 73 Trich Sai, Buoi, Tay Ho along the road along the beautiful West Lake of Ha Thanh. The restaurant is likened to a 5 * beach resort with a direct view of West Lake. In particular, Meat Plus West Lake also has both indoor and outdoor space with a 2nd floor swimming pool and coconut balls to comfortably organize a lively BBQ party or Pool Party.
Located at the million-dollar villa at 73 Trich Sai, Meat Plus West Lake is like a pearl "shining" in the heart of West Lake, the center of Hanoi. Bringing modern, Korean-standard style from the scrumptious barbecue menu, to the unique and innovative space. In particular, located on the lakeside with a large, direct view, covering the whole scene of West Lake. At Meat Plus West Lake, diners can enjoy a full view of the lake from any corner of the table. From the indoor table next to the glass door or the outdoor table, it helps us to immerse ourselves in nature, in the peace of heaven and water, completely separate from the bustling city.
Meat Plus No1 Korean BBQ – West Lake also has free birthday decorations. Open space on all floors makes it easy for guests to enjoy the beautiful scenery of West Lake. With a warm but spacious space, the restaurant's 3 main floors have a capacity of serving up to 500 guests; with luxurious interiors as well as having a live band performing on holidays.
Meat Plus No1 Korean BBQ – West Lake – Floor plan & Capacity
Meat Plus Restaurant – West Lake is a unique No1 BBQ restaurant in WestLake. The restaurant has a prime location at 73 Trich Sai, one side is the bustling center of Hanoi, one side is the romantic West Lake. This is a large restaurant in West Lake with the ability to receive 500 guests at the same time, has 3 floors of use with many separate spaces.
Floor 1: Fascinating Event Spaces with decoration
1st floor with open but private space mixed with luxurious decoration space
Floor 2: Outdoor private table, Fancy pool party with capacity over 250 customers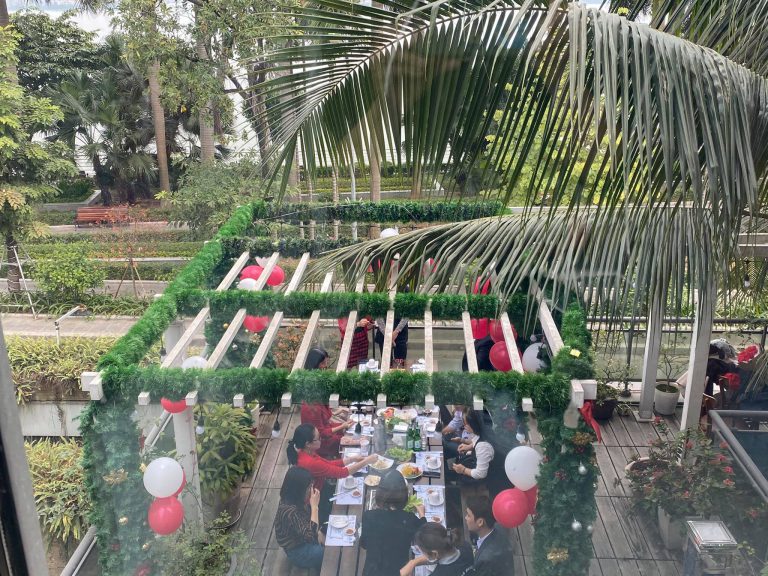 Floor 3: West Lake-direct view, free party decoration for 2 to 200 customers
3rd floor space serves from 2 to 200 guests
Meat Plus No1 Korean BBQ – West Lake attracts diners not only because of the quality of the food and beautiful space, but also depends on seemingly simple factors such as the air conditioning system and the exhaust system. Whether summer or winter, the intelligent air conditioning system helps to adjust the most suitable temperature to enjoy the right barbecue. To create a fresh atmosphere for meals, Meat Plus has invested heavily in efficient air conditioning and odor extraction systems. As a result, diners can comfortably enjoy the dishes without fear of being affected by the 37 degrees Celsius heat outside, or the smell of food clinging to their clothes when leaving.
Choose Meat Plus No1 Korean BBQ – West Lake, choose satisfaction
See detailed Review of Meat Plus Ho Tay space here! Meat Plus No1 Korean BBQ – West Lake: Review of Barbecue, Menu and Space!
If you are looking for a best place to have unforgettable dinner of BBQ, HIGH CLASS – DELICIOUS – NO1 KOREAN BBQ Meat Plus West Lake will satisfy you all. Excellent barbecue, 5 * service, reasonable price from only 350.000 VND/person, direct view of West Lake, swimming pool, Outdoor table, Car parking, Child chair. Offers Plus privileges. Free place to decorate Birthday, Pool Party, BBQ Party, Birthday party, Mid-Autumn Festival, October 20, November 20, halloween, Noel, March 8, corporate festivals, New Year holidays, important events … or any occasion for Lovers, Friends, Family, Company!
According to the regulations of the Meat Plus system, please do not bring outside food and drinks and arrive on time! Meat Plus holds a table no later than 10 minutes after the reservation time (no exceptions) and will cancel the table after 10 minutes to the waiting list.
Holidays: Please arrive with a sufficient number of people and on time when booking for the best table arrangement and service!
Contact now 0879.772.773 for more information and BOOKING!